As Hoshi opened his eye's in his sleeping bag he peering at the clock showing the time of 5 A.M. Normally these are not the waking hours one should be used but he thought to himself to sleep early once he became a Genin to get ready for a good first true day And what better use of his time would there be if not for a quick morning workout *of course after a great shower and changing into his clothes*.After doing some quick push ups on the ground and using a loose part of the roof to dig his hands into to do pull ups. He decided to start training the basics alot more so he could offer a more exciting fight to anyone he trained with. And what better place then the training grounds just an hour's jog away. So Hoshi packed 3 bottles of water and some produce such as cucumbers *cut up* and tomatoes. With a few premade rice balls which don't taste very good but keep him going.

Today's morning was a pretty chilly, with somewhat clear dark sky with the tiniest hint of dark blue light, Perfect weather for a good early morning jog to reach the training grounds as it was cool enough so heat wouldn't become an issue but not cool enough to be freezing. On the way Hoshi was trying to think of what he could learn today with the goal being , or at least building the basics of actual taijutsu more fitting in technique to a Genin instead of the basic techniques Hoshi still used in a fist fight barely even able to be called taijutsu.

Perhaps the chain fist or the iron claw could be a good base to work with or at least begin to understand. Unlike with the jutsu required for the genin exams he's been actually studying these techniques for a while in the hopes of one day using them in combat *stops the moderately paced jog to do does crappy version of chain fist and iron claw in room* the performance was in fact very disfactory unlike what he had hoped. And so the treck to the ground continued.

After all this time jogging Hoshi found himself at the gates infront of the training grounds. Within here all of the strongest ninja trained day and night to perfect each and every one of their techniques. So with a skip in his step. Hoshi opened the front doors into the training grounds. To begin his life as a genin within these very grounds.

Within he saw several old and young alike training together and seperately and Hoshi was wanting to work with someone else. But for Today he knew that unlike these toughen hardened ninja's he's just a greenhorn. A pathetic opponent. So he needed to become stronger so that one day these people become a phesable challenge instead of a slaughter.

Now within these training ground Hoshi was at a loss of how to start. So instead of beginning with his improvised training he decided to sit down and watch others train. Who knows it could be... *1 hour later* Watching these people train is pretty boring honestly. The best result would be a stroke of inspiration but so far it's either really basic training he could think of or extreme training which he could dream of. So instead of wasting more time with an annoyed expression the aspiring Ninja jumped up and decided to just do his own training within these halls.

First Hoshi began with some mental exercises. Imagining an opponent and assaulting in a way to which he would best the imaginary foe. Of course this foe would always be one step ahead as it's like fighting himself almost with both targets knowing how to counter. But today is different. He can actually see other people and so he can imagine that decently potent academy student training in the distance as his opponent. Nothing too grand. But also has some kick to it. 

He imagined the academy student beginning at a distance of 3 metre's away. With the distance that great he decided to be the close range aggressor and not give him the time of day to begin a counter attack and dash towards his imaginary foe. Imagining a counter the assault being drove in turned into a sideways weave getting ready to strike the gut. But as he tried to land it the student in his memory slightly hops backwards ready to strike with a counter strike. The only quick fire solution would be to extended his legs further and go in for an elbow strike to the chest. Which in this imagination works.

Now Hoshi had to use the open face of the student to his advantage and go in for a finishing strike. Or at least a strike to get control. He decided to use the technique he thought of using today which was the iron claw. He imagined leaping to the right of the imaginary student and grasping the open face with a claw. But withdraw at the last minute as in his imagination he decided the student would probably substitute which the weights within the training ground. And so Hoshi turned around to see his fake opponent and grasps at him with a successful iron claw. Crushing his face and forcing the defeat of his enemy. Though when Reality started to kick back in. Many of the people here *only genin/students as chuunin and above don't have time for this* 
started to stare peculiarly at him. As he was running and fighting around like a lunatic with a slight smile on his face.

Well even with that embarrassing ending the end result was still clear as good training against imagination worked in his favour for once. Though perhaps now he could train whilst transformed as someone else as the tension of being transformed will add to the difficulty of basic activities. So Hoshi transformed into the regular Blonde haired. Arrogant looking teenage rich kid prick he likes to imitate. With a faked white thrilled jacket and red menacing eye's. And with this form a jog route was decided by himself to go around the training grounds. A feat easily achieved by himself normally. But within this form. That itself was a horrendously exhausting exercise. Which is a great way to feel. That burn the heat. You feel stronger yet exhausted at the same time. But near the end of the jog the transformation wore off and he became yet again Hoshi.

That wasn't good enough. If he could barley jog a couple laps around these grounds with the added strain. Then how could his body withstand some of the higher tier taijutsu's out there. The simple answer was at this moment. He couldn't. That fact in and of itself was angering Hoshi beyond relief. And so for the next 150 minutes he kept trying to make the laps complete. Over and over. Exhaustion and relief. Falsehoods of the form Hoshi calls Shiho being inadequate. Yet slowly but surely "Shiho" reached the end of the laps and finally Hoshi could be rid of this form... Yet that wouldn't be training to his limit. He should continue to run even after completing the target to see how far he can truly go. Which lasted for about 1 minute extra. But again that extra 1 minute filled him with pride at the vast strides of improvement in just over 2 hours he's made to his speed and use of transformations.

With observations Hoshi could tell from the sun being more bold in the sky then early in the morning but not quite peak  height that it was around perhaps 9:30 And so Hoshi decided to have a quick rest and yet again watch the other ninja's as he unpacked his bag and got out a slightly and depressingly warmed up drink with the unknown benefit of resting now soon to be apparent.  15 minutes later Hoshi saw someone leap a great distance to begin an assault a massive 10 metre leap? A technique like this could stomp the pesky enemies who would try to run away or stay at a distance with a leap. Or could be a great surprise opening to anyone who needs to be hunted down. And. It looks cool as hell. 

Hoshi kept observing the man *looks like from his skill just a genin just like him but alot older.* the stance he takes before the leaps. The power of the leap. The amount of spring he produces with his legs for a quick and powerful strike at top speed. This technique unlike the others he's seen off in the distance *such as weird ninjutsu/taijutsu combinations and insane levels of speed he can barely keep up with* seems like one even he could do if he just practiced enough. And so after another 15 minutes of observation into his every muscle movement in that one technique *the rest of his moves were hit or miss* Hoshi felt confident he could at least attempt that kind of a leap on his own.

First a quick look around was in order since he can't just jump into someone else he needed a good target. So he found a strip of good land and placed his bottles all 1/3 a distance of each other to be at least able to see the progress he could make. And so with everything in place and exactly one metre away the new genin started to plant his feet firmly into the ground whilst getting low enough to be able to generate decent power with his body pushed down. Alike he was a spring ready to pounce and jump back up at any second. And With the sound of everyone in the backround and hearing someone yell at someone unknown. Hoshi decided to at least attempt this leap. 

Hoshi pushed hard against the ground as he decided to leap into the air his feet left the ground as he soared. Quickly putting out his right leg too so that once he completed the leap it would actually be an attack as it should be. As he started to go down again a complete stranger. A Chuunin unknown to him walked in the way of this. Bad bad bad news for him as Hoshi with all this momentum couldn't stop himself from. Crashing right into the chuunin. After causing some physical annoyance to the chuunin he spoke up pretty pissed off "Hey runt watch where you practice those techniques. Unless you want to end up on the bottom of my foot begging for mercy the next time." Before Hoshi could even respond the chuunin walked away. This was quite the embarrassing day for Hoshi.

But even all that was not a deterrent as Hoshi looked around for the bottles he had placed *1 empty* quickly discovering he only made it 8 metre's and not the desired 10. Not good. Perhaps his mid air form was off? He didn't put enough power in? Ah! He decided he could use some chakra alike the tree climbing in order to go that extra distance and manage the whole 10 metre leap/assault. Determined to actually do the trick Hoshi decided that with a deep breath to move his chakra focus from all around his body to his legs. The muscles in the legs. And the base of the feet. He once again coiled himself up and ready to leap. But before the leap occurred someone training accidentally bumped into as the leap was about to happening. Destroying the balance created and causing a fall flat on his face.

Hoshi was pissed. He looked at the ninja. He appeared much stronger then himself but even so that doesn't give him the right to be an ass "Hey man what the hell was that! I was about to do a technique and you just bumped into me. Why the hell did you do that prick." The tough looking ninja instead of countering that argument was as passive as they come "Ah i'm sorry there young one. I was in the middle of a particularly intense bout which lead into me moving into quite a few area's and whilst i was exhausted i didn't observe my scenario's like I should. But i did mean you no harm. You should continue your own training no?" He talked like a wuss but it could be his way of ending the conversation so instead of saying nothing was wrong to humor this dance  Hoshi instead just ended the conversation bluntly "Yeah yeah whatever you have no reason to be interested and i want to get back on track."

And so again this time with no one walking in the way and no one walking into him. He decided to flow his chakra alike a river down his spine and centre through his legs but some staying and into his feet. He scrunched his body up ready for a full power leap in just 1 second flat. And imagining a sort of hammer into his chakra infused legs. He rose and went flying at a rapid speed through the cool air with his right leg out. Unlike before he felt for sure he could reach the end bottle. But he ended up going past it. He "landed" 11 metre's total of distance but he didn't prepare a landed so the undersides of his legs ended up getting grinded on the floor. At least it wasn't a jagged stone floor. Otherwise he would instead of be in minor pain. It was pure flat land so it didn't hurt too much. And since it was mostly horizontal that means to downwards force wasn't much to deal with.

Because of the unwanted and annoying disturbances the time that took wasn't as quick as it would seem taking half an hour with only 15 minutes of actual training. Which was still the quickest time that Hoshi's ever learnt a technique and then actually use it. And so Hoshi ,after picking up his bottles and putting them in his bag, began trying to full be able to use the chain fist next. He started by walking slowly forwards as he rolled his fists around. But compared to the other fighting techniques he had learned this one was currently sloppy and slow. Even his imagined Academy student would be able to dodge this no problem. But it seemed this technique could have some decent power to it if he just kept on training it.

That's what he though an hour ago. This technique no matter how much he keeps on using it just seems inferior in terms of speed to any technique that has come before it. Yet he kept on trying to make this work as he has seen it done reasonably. But perhaps it was supposed to be slow? He tries to remember a time when it actually was fast and he just couldn't remember. But. Maybe if he tried leading with other techniques he could land the chain fist. Looking around he saw a training dummy. Perhaps practice against that dummy could lead into a combination of sorts being achieved? And so he decided to once again against his better judgement try the leap. After doing the process in his mind he leaps a 9.8 metre distance but aiming for that specific training dummy.

Once he managed to kick the training dummy with the leap he went to the ground rapidly and sprung up with a gut focused punch and began a combination of ordinary punches/kicks. But during this ordinary combination he decided to begin using the chain fist whilst in pseudo fight with a dummy and with forwards momentum preserved via a left punch he began using the chain fist as his opponent *not really anyway* was caught of guard *again not really* and he felt as though this attack was not meant to be a stand alone technique. But a technique that needs another to be lead into the rapid force. 

But still it was slow. He surely remembers a way to make it faster but cannot for his own skin remember what that was. But instinctively when trying to change the speed to be faster and faster. His fists just unravelled and before he decided to clench them again something spectacular occurred. The speed of the chain fist increased *though only thanks to a decrease in power* and the best part was that Hoshi found this out via his own methods and no other means of knowledge since that was all forgotten. So Hoshi with the new found fast and slow chain fist began to create even more brutal and powerful combination assaults.

Unlike his previous assaults with the fist mid training he decided to both weave in the light chain fist as a change from a heavier combination of attacks and the strong chain fist for when his attacks needed more power instead of speed. With these new steps he thought it was time to truly see what all this training has lead to before he eats his lunch. He prepared to launch himself via chakra preparation and crunching up his legs to a 10 metre leap. He extended his legs with enough force to reach that 10 metre goal. After leaping he decided to some quick combination related attacks to sort of wear down the imaginary opponent. Within these attacks he did a mixture of chain fists with fists and with open hands to get a good mixture of attacks and events in. With his final assault being him grabbing the face his his *dummy* opponent and holding with a strong and mighty grip. Yep this was all the culmination of today's training. Learning how to enter a fight in an epic way and landing a hit simultaneously. Learning how to again follow with good combinations weaving in the chain fist every now and then. Using the iron claw to finish off and hold down opponents. And training to increase how fast and far he can run whilst transformed. He should be satisfied. But he wasn't.

But first before satisfying himself he should have another drink and eat some of those packed cucumber slices and rice balls he has to regain his lost energy from training all these preliminary techniques. Because although Hoshi though these moves were useful to him currently. They are no where near the techniques one would see within a chuunin exam and so he needed to be even better than this to become a chuunin. But he can at least work his way up. Thinking of Ritsu along the way. And how he should be able to at least match the Ritsu he remembers before even thinking of trying to become a chuunin.

When Hoshi tried to start eating he felt wobbly and tired. But of course he would after exerting himself this much for hours on end using several taijutsu techniques over and over again *though not at 100% power all the time*. A full hour rest and eat was plenty enough to restore all his stamina and vigor back to 100% as he yet again thought of how to edit and power up certain techniques. But first. Some quick physical training would be in order. 10 minutes of sit ups. 10 minutes of push ups. 10 minutes of core balance training. 10 minutes of punching to train fist hardness and finally 20 minutes of jogging. A full hour's worth of physical training to simply become a stronger genin then he ever was before.

By now it was 30 past 2 pm with the sun not at maximum height now either. Hoshi was thinking of ways to power up a technique. And he personally thought that even after training to learn it. The chain fist technique was just too. Human in design with nothing that would surprise or really to much effect an enemy. A simple hand gesture like this would do nothing to the trained genin out there. What he needed was to become more then a human then. He needed to tap into his instincts more. And so he tried doing the chain fist by instinct. But alas a simple chain fist was too much of a poor technique. With instincts removing the sharpness of the combination and making the technique worthless.

An hour. 2 hours. Had 3 hours passed? He could not tell. He was trying to improve the chain fist technique. And whilst he had slightly improved the speed/power/efficiency of himself using the technique. The actual move itself was still pathetic and weak compare to his arsenal already. He thought if he was to do a combination attack then he must make one himself. And if instincts are key then perhaps he must become alike a beast in order to become stronger. And so he opened his fist and turned it into a palm with the fingers tensed up. If he was to become an animal then he must act like an animal. 

He began stalking around the training dummy. Then as he was nearby he assaulted not with punches but. More like slashes at the dummy. This of course hurt his fingers a great deal after 20 minutes but that didn't matter as his brain was in a sort of mode unlike anything before. Exhilaration at the destruction of this dummy as he kept clawing at it. Finishing with a spin of sharp slashes at the dummy. Actually cutting it up and tearing it to piece's. Hoshi after doing that attack was out of breath. Breathing heavily out his mouth with unfocused eye's and a smile. Yes. This technique was the one he wanted. One which engrosses the user in combat bliss. Yet it was not complete as of yet. It's still needs fine tuning across the board to become the lethal weapon he wants it to be. But for now. Hoshi has been training for a total of 11 hours today and his body is telling him that he's exhausted. And so with slow steps Hoshi made his way home.

[WC-3707]
[Claiming Iron Claw technique (1000/1000), Chain Fist technique (1000/1000) V6 Dynamic Entry technique (1000/1000),  18 stats points]
[exit]
They say power can drive someone insane. But power is the only real freedom one can have so it could be said freedom and insanity are one in the same.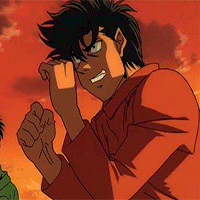 Hoshi Kyouken. Rank-D Age-14 (IG) Genin Male
Stats
Health-51
Chakra-10
Stamina-47
Speed-100
Strength-80 (+25)
AP-504
(+34)
stats Page