Kuroba Kyuuren
Basic Information
Age:
18
Birthday:
Oct 31
Gender:
Male
Appearance: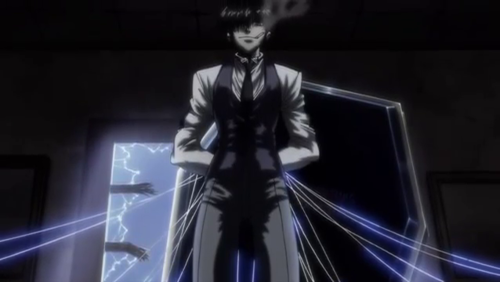 Kuroba is a rather large male among his sanguine family standing at 5'10 ,towering over his father who was a mere 5'6. Many who have caught a mere glimpse of him before dipping into the shadows claim that he his a man whose body has been tamed in the harshest of environments, his chest other areas being finely chiseled. Under any normal circumstance he is always seen with his hair down where it falls below his lower back and stops just in the middle of his attire. While his hair is long and messy, the dark locks often find themselves curling up especially around the right side of his face, where his often has little tufts of hair sticking out and his eyes are red.
Moving on to his clothing, if he ever out and about he often wears this. Starting with the top he wears a tattered shirt underneath a white cloak.
Moving onto the lower portion of his body he wears a pair of black pants which are held up by a single red sash. Attached to the golden buckle with holds the sash against the pants rests an ash grey and black pelt which drops just to the bells of his pants and rest comfortably against his sandals.
In a situation that requires him to be properly dressed and ready his appearance changes. He wears a white mandarin collared sleeveless shirt, worn over by a black sleeveless stand up collared jacket. The bottom half consists of white pants wrapped around by a sarong and tied with an abrasive belt. Along the length of his nose lies his birthmark which to some look like a small scar.
Personality:
Kuroba's personality is hard to pin down in a sense that it can be everywhere and no where at the same time. At one point he could be cocky, arrogant and ill-mannered yet at another he could be caring, nice, and considerate of others. The second half is rarely ever to happen due to the fact that he cares not about the emotions or well-being of other people, he'd rather watch a person drown than help them out of the water. Kuroba doesn't exactly care about the situations and feelings of other people.
Why should he of course? When Kuro often asks people why they are down or sad (whatever happens to be the case) he doesn't actually care, and only listens so that he can see just how much of an idiot they truly are. Another key point about Kuroba is that he cares not about love or any of the emotions that come with it. To him love gets in the way and complicates the already useless emotions people have. He would rather put himself in the position of making one fall for him before crushing their hopes than be with them.
In combat, Kuroba shows the same ruthlessness as he does every day. He shows no remorse to enemies giving them no time to react or even beg for their lives before they fell to his hands. Preferring not to fight in groups, he will separate the strong from the week before taking them out and then? He brutalizes the opposition before working on the small fry. There isn't much this male would do when it comes to combat, whether it is tricking his opponent or even causing them to fight against their own if they are that weak minded.
History:
The males origins trace back to the Volcano village formally known as Funka. With a single mother and a bastard father, the male born Kuroba Kyuuketsuki was by no means an average child. By the age of five he had already been abandoned by both his parents and had been taken in by a random family shortly after. This family taught the boy what he needed to survive in the village ran by a cannibal- how to lie, cheat and steal to get what he wanted. At the age of six he had been inducted into the village academy where from day one he began to cause issues for all that had been around him. By the age of eight he had graduated from the academy, but had not been appointed a genin team.
It was during his time as a genin, his age now nine, that he had defected...well not defected but became involved in various illegal activities that other surrounding areas did not agree with. For this the male, who had some point discovered his kekkai genkai at the age of eleven, he decided to delve deeper. Ever the manipulator he conspired with those he "worked" with to steal from local caravans and people traveling near the Funka area before finally being apprehended some years later at the age of fourteen. Death was an option but they served him a greater sentence. To be left to rot in cell off the coast of Funka for a time unknown.
The male since then had been locked up until the current day, where the guards have left due to the news of the village magically being voided of all denizens. Of course in the lowest level of the prison sits Kuroba secured by tagged seals and chains to keep him from doing anything. Occasionally he would hear news of what had been going on in the world but at the moment he just awaits for the time he can get out.
Likes:
Blood (of course), Chaos, Walks, Reading, Eating Persimmons, new moons, Traveling
Dislikes:
Entrapment, being looked down on, backstabbers, innocence, naive people, realists, dogs
Ninja Traits
Rank:
E rank Mn
Village:
None
Element(s):
Water
Specialties:
None
Clan:
Kyuuketsuki
Bijuu Request:
None
Stats
Health:
5
Chakra:
10
Stamina:
5
Speed:
5
Strength:
5
The Player
Other Characters:
Just the one.
Roleplay Sample: