Mizuki Ohta

Kazekage

Fame

: 96


Ryo

: 120150

---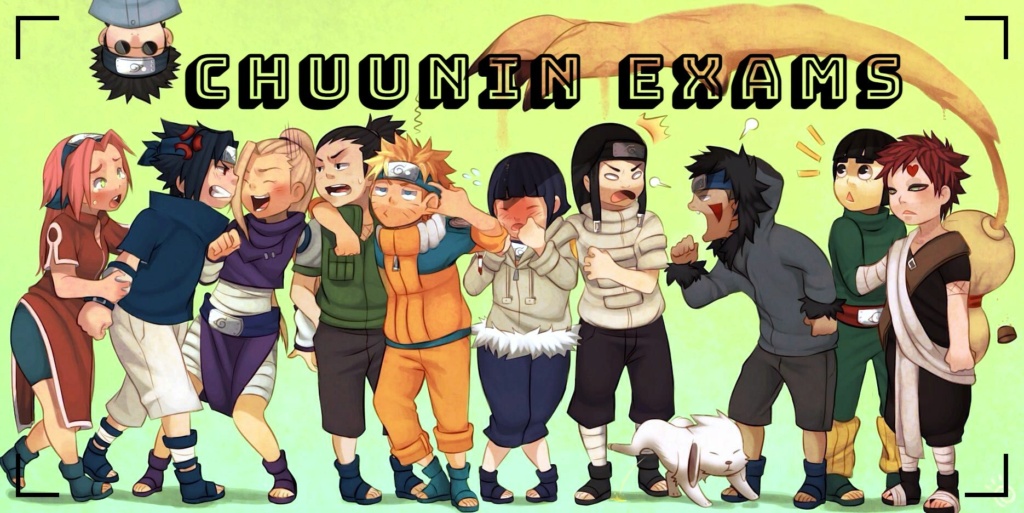 Created by Sauce-K and Mizu
Chuunin Exam Registry & Rules
Rules Upon Entry and Participation
Everyone who registers to participate in these exams agrees to these terms.
To even the playing field we are applying limits to the power of participants.
-All participants have from March 7th to March 13th to arrive in
Hoshigakure.
If you are not in the village with all open threads exited properly you are automatically disqualified.
What is the event?
We have decided to follow closer to tradition and will be following the 3 Trial format.
As we get closer to the event start date there will be more details.
Trial Two:
Group Bell Exercise
Trial Three:
1 V 1 Fights
Trial One will award points based on answers given, and the three highest scores
can 
be used to bypass the requirement of
a bell to pass trial two.
Trial Two
will consist of Groups of 3 [or even numbers dependent on participants] 
Each group will be set up with either a PC or NPC Jonin 
6 or 7 teams will advance to Trial Three.
Trial Three
will be the remaining participants 1 vs 1 fights.
Randomly generated pair ups each round.
*Once the topic starts each participant will have 72 hours to respond,
 if the window is not met the failed party is auto hit and loses*
COMBAT
-Going based off the starting Jutsu lineup of Genin [D rank Power]
3 Basic and 1 Advanced Element
1 Spec if Clanned and 2 Specs if Clanless
Unlimited D-Rank and lower
15 jutsu of B-Rank & C-Rank
[Once chosen you may not switch jutsu out mid exams, choose wisely]
-
None
of your chosen jutsu
may be a 
Booster, Amplifier or Enhancer
.
- No Armor will be allowed.
[Including armor abilities granted by clans]
- No Summons or Familiars will be allowed to participate.
- No Legendary Weapons or items.
- No preplaced Fuinjutsu seals are able to function
if you have seals they are rendered "Void" during combat
-During combat portions of the exam if your health bar 
drops below 50 you are automatically disqualified.
[EVENT ONLY ALL HEALTH BARS MAXED OUT TO 300]
-This is a non lethal event. If health is dropped below 50
the bar is unable to go lower regardless of jutsu damage.
 [EVENT ONLY AFFECT]
PRIZES
The in character title of Chuunin is ultimately dependent on the participants' respective Kage,
but
If you manage to make it the
Third Trial
and place 4th or higher there are additional rewards.
1st Prize
- B Power Rank; LW
or
Bijuu Ticket.
2nd Prize
- C Rank Power; [whatever option 1st place
didn't
choose]
3rd Prize
- C Rank Power; B Hunter Skip
4th Prize
- C Rank Power; C Hunter Skip
REGISTRY
All participants have until
March 6th 11:59 PM Eastern Standard Time
Reply in this thread to officially register following this format:
Name:
Village:
Rank:
Kage/Sensei who approved participation: 
Participating Jutsu List -
A Rank: [5 Max]
B Rank: [15 Max]
C Rank: [15 Max]
D Rank: [Unlimited] 
E Rank: [Unlimited]
Specialty: [1 Clanned, 2 Clanless]
Skills: [5 allowed] *Display of Power is not allowed*
Sakuragi Hyuuga likes this post
Ishimaru Shinkou

Genin

Fame

: 3


Ryo

: 2200

---




Sakuragi Hyuuga and Mizuki Ohta like this post
Hitora Uchiha

Genin

Fame

: 0


Ryo

: 500

---




Sakuragi Hyuuga likes this post
Sakuragi Hyuuga

Genin

Fame

: 15


Ryo

: 81510

---




Sakuragi Hyuuga likes this post
Souji

Genin

Fame

: 17


Ryo

: 23350

---




Sakuragi Hyuuga likes this post
Pageboy

Genin

Fame

: 1


Ryo

: 1600

---




Mon Mar 01, 2021 8:44 pm
Message reputation : 100% (1 vote)
Enishi Kurosawa and Sakuragi Hyuuga like this post
Fu

Genin

Fame

: 14


Ryo

: 40100

---




Enishi Kurosawa and Sakuragi Hyuuga like this post
Kita Hajime

Genin

Fame

: 3


Ryo

: 140855

---




Sakuragi Hyuuga likes this post
Permissions in this forum:
You
cannot
reply to topics in this forum