Travin Rentei

Jounin

Ryo

: 87764

---




Name:
Binding Snake Glare Spell
Element:
-
Rank:
C Rank
Specialty:
S/T
Special Jutsu Type: Backstory: Appearance:
snakes are 5 meters long, and 6 inches wide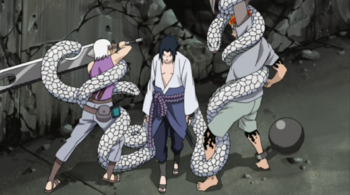 Handseals:
Rat-Dog-Dragon
Duration:
4
Cooldown:
4
Range:
5m
Power:
25
Speed: 
25
Health:
25
Stat Boosts:
-
What it does:
The user summons two large snakes, that seem to appear out of the user's sleeves. by manipulating space-time, the user actually makes small one-way portals that the snakes can travel through (portals are invisible), and due to the manipulation of space-time they can come out of any sleeve as long as the sleeve isn't somehow completely skin tight. The snakes will just appear to squeeze through the sleeve.
If the user doesn't have sleeves, the snakes appear to grow from their wrist.
snakes move at jutsu speed, have a health of 20, and have a strength and sharpness of 25. The snakes benefit from chakra scaling (this is taken as the snakes either becoming stronger or summoning stronger snakes).
When jutsu ends, snakes (if still alive) disappear in a puff of smoke like a normal summon. If either snake dies, they cannot replace the snake with another until their next topic (so if one dies, they can only summon one for the remainder of the topic).
Snakes have a paralyzing venom, if bitten, and not treated by any medical technique capable of removing the venom in the first post after being bitten. Anyone with strength less than half the power of this jutsu will be completely paralyzed for 2 posts. Anyone with a strength less than the power of this jutsu is paralyzed for 1 post with people with strength equal to or more than the power of this jutsu is immune. 
Character Specific:
-
Wordcount to learn:
1,125
Action Cost:
22, 11
Mastery:
-
Bonus Requirements:
Snake Contract, 1 other snake jutsu
Canon, Custom, Bloodline or Village Exclusive:
original
, Canon
Ichigo Sato

Jounin

Ryo

: 67650

---




Hello Travin, I'll be the Trial looking over your app.

Similar points to your other app, TL;DR:
- extra hand seal, edit speed portion according to the 20-29 Tier for C-Rank, increase wordcount to 1125 and AP cost to 22. 

For your last paragraph I think it wouldn't hurt adding a clause that says "If not treated by any medical technique capable of removing the venom in the first post after being bitten...". Mainly so that the ones who aren't immune have at least some sort of last resort to resist being paralyzed.

Thank you.
Travin Rentei

Jounin

Ryo

: 87764

---




Tue Dec 15, 2020 10:09 am
made the edites and thanks for looking man
Ichigo Sato

Jounin

Ryo

: 67650

---




Ayato Hyuuga

Hogokage

Ryo

: 63283

---




Permissions in this forum:
You
cannot
reply to topics in this forum