Kizmaru Senju

Master

Ryo

: 2700

---




Name: 
Wood Release: Cutting
Element: 
Wood
Rank: 
B
Specialty: 
Ninjutsu
Special Jutsu Type:
N/A
Backstory: 
-
Appearance: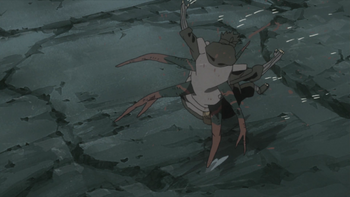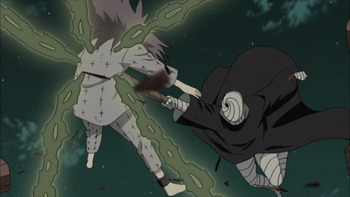 Handseals: 
Ram, Ox, Snake, Dog
Duration: 
 3 Posts
Cooldown:
4 Posts
Range:
30 Meters
Power: 
30
Speed: 
30
Health: 
30
Stat Boosts: 
-
What it does: 
The user produces 3 branches when upon completion of the hand signs from any part of their body and can be fired up to twenty meters at a target. Branches can grow up to two and a half meters long and be up to fifty centimeters thick. Sharp points and edges on the branches deal jutsu power. Branches can be freely manipulated as long as they are connected to the users body. The user can wield the wooden spikes weapons through this technique like normal weapons such as spears or clubs or can be thrown like simple shafts of wood at the enemy. For an additional 20 AP, the user can cause any branch they have created that still exists on the field to grow additional four branches from itself in a different directions, each of them able to grow up to the maximum dimensions. The additional branches that grow out from another branch cannot be fired. Branches must be within 10 meters of the user for them to be able to activate this feature. The user can remove the branches from their body at any time without having to fire them off. When this jutsu ends any remaining branches on the user fall off. Any branches existing after the jutsu ends persists retaining their stats when created.
Character Specific: 
-
Wordcount to Learn: 
1,500
Action Cost: 
30, 15 upkeep
Mastery: 
Yes
Bonus Requirements: 
-
Canon, Custom, Bloodline or Village Exclusive: Canon:
 Canon
Original
Ayato Hyuuga

Hogokage

Ryo

: 63283

---




Kizmaru Senju

Master

Ryo

: 2700

---




Ayato Hyuuga

Hogokage

Ryo

: 63283

---




Sat Sep 19, 2020 12:45 am
Change the dimensions of the branches of two and half meters long and be up to 50 cm thickness please
Kizmaru Senju

Master

Ryo

: 2700

---




Ayato Hyuuga

Hogokage

Ryo

: 63283

---




Sun Sep 20, 2020 12:24 pm
Looks better. Now please change the range where to branching out can be activated to 10 meters away from the caster.

Additionally you can increase the techniques maximum range to 30 meters from the 20 which you have right now.

Specify that a branch on top of a pre-existing cannot be fired seperately.

That would be all cowboy, bump when ready.
Kizmaru Senju

Master

Ryo

: 2700

---




Ayato Hyuuga

Hogokage

Ryo

: 63283

---




Permissions in this forum:
You
cannot
reply to topics in this forum