Kizmaru Senju

Master

Ryo

: 2700

---




Sat Sep 05, 2020 11:46 pm
Name: 
Wood Release: Nativity of a Sea of Trees
Element: 
Wood
Rank: 
B
Specialty: 
Ninjutsu
Special Jutsu Type:
N/A
Backstory:
-
Appearance: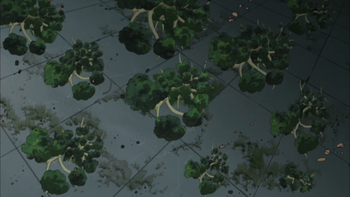 Handseals: 
Snake, Rat, Ox, Tiger
Duration: 
Indefinite
Cooldown:
4 Posts
Range: 
20 Meters
Power: 
-
Speed:
30
Health:
30
Stat Boosts: 
-
What it does: 
After forming the necessary hand sighs, the user is able to turn an area around them into a vast forest in a matter of mere moments complete with five meter tall, two meter wide trees and even grass growing out of any solid terrain they are currently standing on in a twenty meter radius. Because of the brimming life force of the created trees, the are sturdy enough to withstand some attacks although their main purpose is to be used in order to form other Wood Release techniques.
Character Specific: 
-
Wordcount to Learn: 
1,500
Action Cost: 
30
Mastery: 
Yes
Bonus Requirements: 
-
Canon, Custom, Bloodline or Village Exclusive: 
 Canon
Guren Chinoike

Jounin

Ryo

: 137950

---




Would request that you make this multi rank to follow the precedent set by the previous version
here
. Note this one was A/S, but I could see this being B/A/S. Additionally link this topic to this app as the original. 
I would suggest employing similar concepts and practices used from the previous version to this to make sure that it maintains its abilities.
Kizmaru Senju

Master

Ryo

: 2700

---




That's actually the more powerful version of this technique which is regarded as its own standalone technique. That's the reason why I didn't make this multi-ranked. It was going to be a prerequisite to the one you linked.
Guren Chinoike

Jounin

Ryo

: 137950

---




Sun Sep 06, 2020 10:22 pm
Ah my mistake. Well this looks fine then. Just update the range to read as "20 meters" instead of self.
Kizmaru Senju

Master

Ryo

: 2700

---




Sun Sep 06, 2020 10:29 pm
Guren Chinoike

Jounin

Ryo

: 137950

---




Sun Sep 06, 2020 10:30 pm
Permissions in this forum:
You
cannot
reply to topics in this forum