Kizmaru Senju

Master

Ryo

: 2700

---




Sun Aug 16, 2020 12:13 am
Name: 
False Darkness
Element: 
Lightning
Rank: 
B/A/S
Specialty: 
Ninjutsu
Special Jutsu Type:
N/A
Backstory: 
-
Appearance: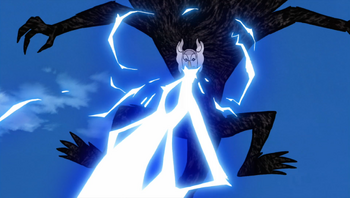 Handseals:
Snake, Hare, Monkey, Bird, Ox/ Snake, Hare, Monkey, Bird, Ox, Ram/ Snake, Hare, Monkey, Bird, Ox, Ram, Tiger, Horse
Duration: 
2 Posts
Cooldown: 
3 Posts
Range: 
50/60/70 Meters
Power:
40/60/Vigor
Speed:
40/60/Vigor
Health:
-
Stat Boosts:
-
What it does: 
The user emits lightning in the shape of a 91 centimetre long, 31 centimetre wide three pronged spear from their mouth, which then can be held in hand or fired directly from the mouth, piercing the enemy. Its destructive power is great enough to even pierce through rock; meaning it has a high killing potential. The user can increase the number of spears to attack multiple enemies for an additional cost of 10 AP. The user can produce an additional lightning spear for every 10 power over the base of this technique up to six additional spears. This, coupled with the sheer speed of the lightning, makes it a difficult technique to evade. This technique is capable of being focused into a straight, circle shaped, two feet wide beam increasing the range by double its range, similar to a laser. 
When learned at s-rank, the beam triples in size and can be split into three individual beams by utilizing the seal of confrontation and the additional cost of 30 AP, capable of seeking additional targets. The beam can only be split by the user while in it's still in a meter range. Upon splitting the beam, the user chooses a target or targets within their field of vision and/or sensory range if the user has the sensory specialty, including clan specialty, causing this jutsu to 'pursue' the target via the most direct route. The beam can only track targets when split up and will avoid obstacles the user sees when the jutsu is initially cast, but after the hand signs are finished, it will not take notice of any new obstacles. It moves at jutsu speed and cannot be freely manipulated by the user once shot. 
Character Specific: 
-
Wordcount to Learn:
1,750/2,750/5,000
Action Cost: 
35/45/100 + 10 for every additional spear
Mastery:
Yes
Bonus Requirements:
 -
Canon, Custom, Bloodline or Village Exclusive: 
Canon
Original
Guren Chinoike

Jounin

Ryo

: 137950

---




Please up the WC/handseals/AP required to follow a B rank jutsu at 40 power/speed (1750 WC, 6 hand seals, 35 AP)

Can you indicate the size of these lightning spears?

The range on this is absolutely massive, being 50m radius. Please dial this down. Also, I am not certain how a spear or beam could have a radius? Seems more like a linear kinda ting...

If this is a revamp please link the original to this.
Kizmaru Senju

Master

Ryo

: 2700

---




Sun Aug 16, 2020 10:43 pm
O shit, my mistake. Edited.
Guren Chinoike

Jounin

Ryo

: 137950

---




Does the 50m range apply to all ranks of this jutsu? I would suggest it scales based on rank. Also gonna need more handseals for a vigor stat ninjutsu
Kizmaru Senju

Master

Ryo

: 2700

---




Guren Chinoike

Jounin

Ryo

: 137950

---




Looks good, thanks brodie. Trial approved
Mizuki Ohta

Kazekage

Ryo

: 233650

---




Sat Aug 22, 2020 10:20 pm
Ayato Hyuuga

Hogokage

Ryo

: 63283

---




Permissions in this forum:
You
cannot
reply to topics in this forum