Kizmaru Senju

Master

Ryo

: 2700

---




Thu Aug 13, 2020 11:05 pm
Name: 
Wind Style: Pressure Damage
Element: 
Wind
Rank: 
B/A/S
Specialty: 
Ninjutsu
Special Jutsu Type:
N/A
Backstory: 
-
Appearance: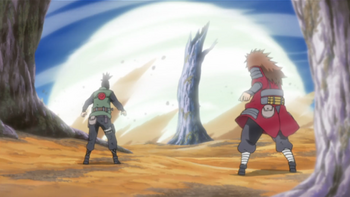 Handseals: 
Ram, Ox, Boar/Ram, Ox, Boar, Ram/Ram, Ox, Boar, Ram, Tiger, Bird
Duration: 
2 Posts
Cooldown: 
3 Posts
Range:
30/40/60 Meters
Power: 
30/50/stat
Speed: 
30/50/stat
Health: 
-
Stat Boosts: 
-
What it does: 
The user channels a tornado-like mass in a compressed ball of wind until it has a very high density before being released. The blast can travel a vast range of up to thirty/forty/sixty meters, before the user chooses to expand the wind ball into a swirling, sphere shaped tornado, inflicting continuous massive damage on both the target and their surroundings of up to fifteen diameters. This technique can also be combined with the Fire Release:Searing Migraine, to increase the flame's potency and range on a grand scale, causing a bigger firestorm. At s-rank the user is able to launch a second compressed ball of wind for an additional 50 AP as well as the sphere lasting an additional two posts.
Character Specific: 
-
Wordcount to Learn: 
1,500/2,500/5,000
Action Cost: 
30/40/100
Mastery: 
Yes.
Bonus Requirements:
-
Canon, Custom, Bloodline or Village Exclusive: 
Canon
Guren Chinoike

Jounin

Ryo

: 137950

---




Can you specify the size of the ball of wind and can you better align the ranges of this jutsu? Seems like there's some discrepancies there (20m radius vs range of 30m vs damage to people in a 15m diameter). 

If this is a revamp please link the original tech.
Kizmaru Senju

Master

Ryo

: 2700

---




Guren Chinoike

Jounin

Ryo

: 137950

---




Sat Aug 22, 2020 12:59 am
Mizuki Ohta

Kazekage

Ryo

: 233650

---




Sat Aug 22, 2020 10:24 pm
Permissions in this forum:
You
cannot
reply to topics in this forum