Kizmaru Senju

Master

Ryo

: 2700

---




Sat Jul 11, 2020 11:24 am
Name:
 Great Moving Earth Core 
Element:
 Earth
Rank:
 A
Spec Type:
 Ninjutsu
Appearance: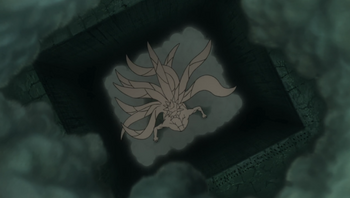 Handseals:
 Hare, Ram, Snake, Hare, Ram, Snake
Duration:
 Indefinite
Cooldown:
 4 Posts
Range:
 30 meter radius
Power:
50
Speed:
 50
Health:
 50
Stat Boosts
: -
What it does:
 This technique grants the user the ability to freely lower or raise the terrain within a specific area surrounding them, in a similar manner to its parent technique, albeit on a much larger scale. This allows them to create giant holes or elevations in the ground, one of which was large enough to trap large scaled beasts. Infusing chakra into the ground, this technique allows the user to raise or lower the surrounding terrain, creating or removing a new platform. The terrain may be altered anywhere within a 30 meter radius of the caster, and the maximum dimensions of the altered terrain created are 10 meters by 10 meters for every 5 points in jutsu power. The farthest the construct can go above or below ground level is 20 meters for every 10 points in power this technique posses as well as shifts at jutsu speed. Other than being above or below ground surface, the technique makes the ground sturdier, making it harder to destroy, so plant life and people maintain their position when the technique is used. Earth manipulated by this technique can only be traversed through with techniques that have higher power than this jutsu's power. Multiple chunks manipulated individually will cost an additional 10 AP.
Character Specific:
 No
Wordcount to learn:
 2,500
Action Cost:
 80 + 10
Mastery:
 Yes
Bonus Requirements:
Must know 
Moving Earth Core
Canon or Custom:
 Canon
Masashi Uzumaki

Jounin

Ryo

: 35650

---




Sat Jul 11, 2020 12:13 pm
AP cost up to 40 please, and please include a cost for every additional chunk of earth being moved.
Kizmaru Senju

Master

Ryo

: 2700

---




Masashi Uzumaki

Jounin

Ryo

: 35650

---




Mizuki Ohta

Kazekage

Ryo

: 233650

---




Sat Jul 11, 2020 10:27 pm
Alright my only request is a choice: Give it a duration cap or raise the AP cost
Kizmaru Senju

Master

Ryo

: 2700

---




Sun Jul 12, 2020 11:32 am
Mizuki Ohta

Kazekage

Ryo

: 233650

---




Permissions in this forum:
You
cannot
reply to topics in this forum