Ayato Hyuuga

Hogokage

Ryo

: 63283

---




Name:
Manipulating Attack Blades
Element:
-
Rank:
A-rank
Specialty:
Weaponry
Particular Jutsu Type:
-
Backstory:Appearance:
The user creates a 1 meter wide, 4-centimeter thick disk in front of them that the user can firmly place thrown weapons. The blades then are suspended in the air with the chakra. With a single hand motion, the user can release the chakra and propel the weapons toward their target.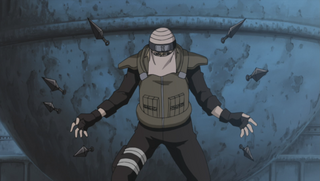 Handseals:
Hand motion to fire projectile(s)
Duration:
1 post
Cooldown:
3 posts
Range:
Explained below
Power:
50
Speed:
50
Health:
Stat Boosts: What it does:
This technique creates a disk that utilizes the user's strength and speed stats for the throwing weapon calculation for speed, distance, and sharpness booster. The maximum number of weapons launched is 10. 
MAB can fire projectiles that are up to 30 centimeters in length, 15 centimeters in width. The jutsu will not hold anything more significant than that correctly, and any attempts to launch a larger projectile than the dimensions mentioned above will fail.
The platform is created up to 2 meters from the user at jutsu speed. It follows the user around, and if impacted with an attack of power equal or greater, then it is destroyed, and any weapons not fired yet fall to the ground—the disc scales with the user's speed stat.
Character Specific:
-
Wordcount to learn:
2500
Action Cost:
40 for the disc/ 5 AP per weapon attached
Mastery:
-
Bonus Requirements: Canon, Custom, or Village Exclusive:
 Canon
original
Guren Chinoike

Jounin

Ryo

: 137950

---




Sup bro, can you just link the
original
to this? Besides that I think this is solid. Glad this is also weaponary now.
Ayato Hyuuga

Hogokage

Ryo

: 63283

---




Guren Chinoike

Jounin

Ryo

: 137950

---




Ibari

Anbu

Ryo

: 12000

---




Ayato Hyuuga

Hogokage

Ryo

: 63283

---




Unapproved and pulled for edits
Permissions in this forum:
You
cannot
reply to topics in this forum