Shinnosu Asuka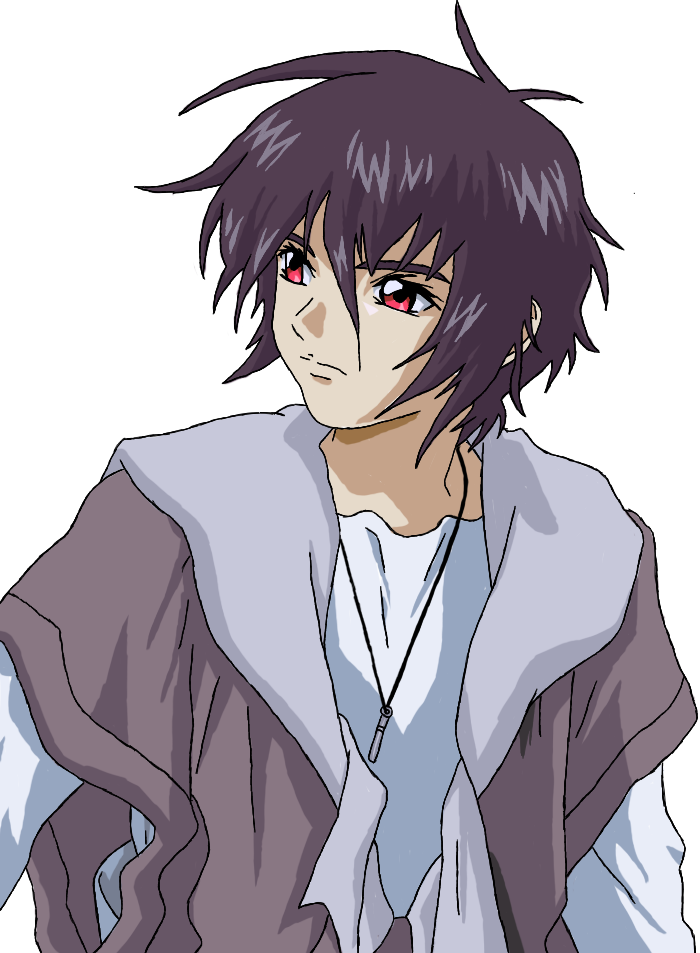 Basic Information
Age:
19
Birthday:
September 1st
Gender:
Male
Height:
6'1"
Weight:
155lbs
Appearance:
Shinnosu is a young man with shaggy black hair that frames his face in the front and falls almost to his neck at the back. He has deep chestnut red eyes, when his Seigan aren't active of course. He also has lightly tanned skin with a few freckles on his body. He prefers to wear layers so as to adapt to different environments. He will normally wear pants, a long sleeve t-shirt with a vest or jacket over top. He prefers close-toed footwear, and white, green, red, and gold in terms of colours for his clothes, but he would not be opposed to wearing just about any colour if it came down to it.
Personality:
Shinnosu (Shinn for short) is a polite individual, always willing to follow the niceties of civilisation because if he doesn't, who will? He is also very driven and determined, once he gets a goal he sticks to it. He is not one to start conflict, but he does not back down easily from confrontation unless it was guaranteed to not end well in his favour. Shinn is a very strategic individual, preferring to plan out everything in advance whenever possible. 
He is very easy going when it comes to friends, and fiercely loyal once a bond is gained. He treats his friends as his family since he has no family left right now. It's his hope that it will eventually replace the loss that he felt three years ago when he lost his village. Deep within him however is a burning rage, directed towards the one that took all he loved from him.
History:
Shinn was born in Amegakure, the village hidden in the rain. His parents were both Amegakure shinobi and worked tirelessly to provide everything they could so that he and his younger brother could have a good life. That wasn't to say they wanted them to avoid being shinobi. On the contrary, when they found out that Shinn had the potential to unlock the Seigan doujutsu they were excited and proud of their oldest child. He had also developed a talent with water jutsu, which happened to be his birth element. As soon as he was able, they had him enrolled in the ninja academy of Amegakure. He studied hard, working tirelessly to master the foundations of shinobi life. The one area he excelled in primarily was puppetry. It was not a common skill, but he had picked it up relatively quickly, which was something that his parents and younger sister supported and enabled him to work on. After a few years in the academy, by the time he was 10, he had successfully graduated and became a Genin of the Hidden Rain village.
He worked just like his parents before him to make a name and a life for himself in the village. He had gone on several low-ranking missions for the village, because of his low rank, and the lack of very lucrative missions that was sent the village's way. Most of Shinn's time was spent in workshops coming up with different mechanisms and ideas for new puppets. Unfortunately, all of his work and that of his family would be for naught. A few months before Shinn's 15th birthday, while the young Rentei Genin had been sent on a mission to the ruins of Tengakure in the bordering country of Moon Country when his beloved Amegakure, his home, his parents, his sister, and his work (his puppets and workshop), were brutally taken from him by the Raikage of Kumogakure. At least, that's what information he had picked up from any survivors that had fled the village during that time. That left Shinn a vagabond, a wandering shinobi with no home and no where to go. He had spent the years since the village's destruction trying with little success to recoup his losses and to improve himself to the point where he could exact revenge on the one that took everything he ever cared about from him.
Likes:
Puppets, the rain, helping others, Amegakure.
Dislikes:
Bullies,being too cold, religion, the Raikage.
Ninja Traits
Rank:
D-Rank
Village:
Missing Nin
Element(s):
Water
Specialties:
Puppetry
Clan:
Rentei
Stats
Health:
5
Chakra:
20
Stamina:
10
Speed:
20
Strength:
5
The Player
Other Characters:
Kotetsu, Masashi
Roleplay Sample:
Alright, here we go:
Perhaps later