Name:
Earth Style:
Swamp
of the Underworld
Element:
Earth
Rank:
A
Spec Type:
Ninjutsu
Backstory:
-
Appearance: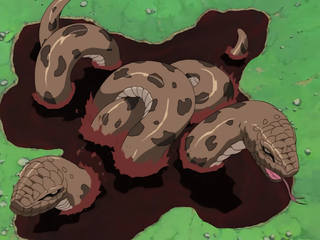 Handseals:
Boar, Tiger
Duration:
Until Deactivated
Cooldown:
3 Posts
Range:
25 Meters (the maximum distance of the origin point, from the user)
Power:
60
Speed:
60
Health:
-
Stat Boosts:
-
What it does:
Centered on the origin point (which must be specified when used), a
swamp
forms, capable of pulling things into it upon contact, potentially suffocating them. The
swamp
can be made up to 20 meters in diameter, and 2 meters deep. For every 10 chakra the user has over the cap, the
swamp
has an additional 5 meters in diameter, and 2 meters in depth. The maximum size of the
swamp
is limited to the size of the face of the object it is formed on. (If formed on the ground, the
swamp
can be full size, if formed on the top of a building, the
swamp
is limited to the size of the roof, if formed on a dome, the
swamp
is limited to the dimensions of the dome.)
If the target's strength surpasses the technique's power, then the target may escape (otherwise they sink at the speed of the jutsu, until they reach the bottom of the
swamp
. Target's with health above the jutsu's power are suffocated and rendered unconscious after 2 posts. If the target is unable to escape, and their health is below the strength of the jutsu, then they die.
Can only be cast on things that would presumably have significant portions of earth content in them, such as Wood/Earth jutsu, the ground, and buildings. Metal does not count. In the case of jutsu, this can only be formed on jutsu whose durations have expired, or which are controlled by the user.
Character Specific:
-
Wordcount to learn:
4250
Action Cost:
45 for use, 20 for upkeep per post.
Mastery:
Yes
Bonus Requirements: Canon or Custom: Canon